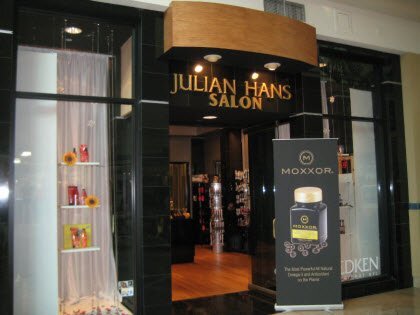 OC Hair Salon Leading Poll for Best Hair Color
Julian Hans hair salon is ranking first of forty in Best Hair Color OC Hotlist poll.
Julian Hans, the leading hair salon in Orange County for hair color and designs, is proud to announce that it is in the running to be officially named Orange County's Best Salon for Hair Color by the OC Hotlist. The OC Hotlist is an extensive list that ranks and evaluates all of Orange County's businesses in all fields, from hair salons to restaurants. Voting is open to the public through the OC Hotlist Website, and winners are announced based on the number of votes and feedback given by the OC public. The OC Hotlist serves as a way to generate awareness of the best OC businesses and where to go to get the best deals in town.

Each year Orange County consumers vote for their favorite local businesses on the Orange County Hotlist. As nominees, business owners can be a big part of that experience. The business center on the OC Hotlist offers business owners free tools to connect with voters, attract new customers, and form deeper connections. The results are decided exclusively by local consumers. Winners and finalists are showcased throughout the year.

Julian Hans has been nominated by the hair care leaders of Orange County. The hair salon is currently ranked first in the polls among hair salons under the Hair Color category, out of 40 other establishments. Anyone can vote online until Friday, November 9th, when the polls close.

When salon owner, Rosemary Ravenda, heard of the nomination to the OC Hotlist, and the large amount of votes from the public, she said it was, "a really great thing for the Salon. Our stylists work hard everyday to make the salon one of the best around, so seeing that others believe that too means a lot to myself and the staff."

An Orange County fixture for over twenty years, the Julian Hans hair salon was founded by Saverio & Rosemary Ravenda. Everyone associated with the hair salon embraces a welcoming culture where every guest is treasured. Each of the hand-selected team members have unique areas of expertise. When these talents are combined under the guidance of the Ravendas, the hair salon is able to offer customers a variety of treatments and styles, especially hair color, that are truly unrivaled.

You can learn more about OC Hotlist website or vote by visiting oc.cityvoter.com. For more information about the Julian Hans hair salon, and their hair color services, please visit www.julianhans.com.
There is no offer to sell, no solicitation of an offer to buy, and no recommendation of any security or any other product or service in this article. Moreover, nothing contained in this PR should be construed as a recommendation to buy, sell, or hold any investment or security, or to engage in any investment strategy or transaction. It is your responsibility to determine whether any investment, investment strategy, security, or related transaction is appropriate for you based on your investment objectives, financial circumstances, and risk tolerance. Consult your business advisor, attorney, or tax advisor regarding your specific business, legal, or tax situation.